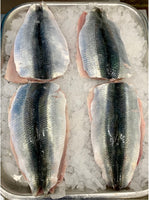 2023 HERRING SEASON
Scottish Herring Fillets (5-8 fillets per 500g pack)
Fresh Scottish Herring caught in the North East Atlantic available during the season of June - September yearly. Only available while stocks last.
Health benefits
Herring is particularly beneficial for its omega-3 content, and it offers one of the most concentrated sources of the fatty acid.
Among the very best food sources of vitamin D3 and is also protein-rich, a regular 184-gram fillet offers 33 grams of high-quality protein.
VIEW HERE
customer reviews
Really impressed with their delivery service and the way they pack your order. I bought their king scallops, salmon, cod and squid — very happy and satisfied with the freshness of everything I ordered. 

I. Simon
Received my order today! So quick and easy delivery! what can i say apart from WOW!!! the fish came packed really well and chilled. The fish itself is out of this world!!! So fresh and tasty!! can't recommend these guys enough and i can't wait to order again!!! 

N. Ahmed
Fish arrived in Southampton in excellent condition, ice cubes still in frozen condition. Haven't had fish this fresh in years, delicious, and no preparation.

J. Elder
Ordered fish for my mother, who is isolating and unable to get her fresh fish. She was so impressed by the speed of her order process, followed by a lovely bit of haddock for her and her cat to share. Thank you so much it has made her week!!

P. Clark
The quality of fish is excellent and very well packed, will certainly be ordering again in the future. Great to be able to get fresh fish from a reasonably local supplier delivered to my door.

E. Davies
Excellent service (delivered the day after ordering) and lovely fresh fish. A godsend in the current situation and much appreciated. Thank you.

S. Hume
Ordered delivered to door within 48hrs of being ordered. Packed well with ice so lovely and fresh and great looking produce. can't recommend those guys enough. If you want fresh fish give them a shout.



P. Saville
Beautiful Scallops. Thank You so much Express Fresh Fish Team

J. Gove
Delicious fish delivered to my door in a sealed ice box so you don't have to stay in to receive your order the order came the next day, great service!

J. Leith