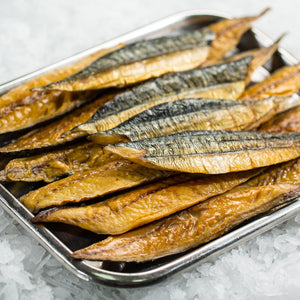 Sustainable Scottish mackerel caught by our responsible sourced fishing fleet in the rich fish grounds around Scotland.
Recipe
Smoked mackerel fishcakes
Ingredients
• 300g/10½oz ready-cooked mashed potato
• 300g/10½oz smoked mackerel, flaked, any bones removed
• 1 tbsp chopped parsley
• 2 tsp horseradish cream
• salt and freshly ground black pepper
• 100g/3½oz plain flour
• 2 free-range eggs, beaten 
• 100g/3½oz polenta
• vegetable oil, for frying

For the salad
• 100g/3½oz ready-made mayonnaise
• 1 lemon, juice and zest
• 100g/3½oz carrot, cooked and cut into cubes
• 100g/3½oz edamame beans
• 100g/3½oz green beans, cooked and chopped
• 100g/3½oz canned chickpeas, drained and rinsed

Preparation method
Mix the mashed potato, smoked mackerel, parsley and horseradish cream together in a bowl and season well with salt and freshly ground black pepper. 
Mould the mixture into six equal-sized fishcakes.
Chill in the fridge for 20 minutes.
Remove the fishcakes from the fridge and dust with flour, then dip into beaten egg to completely coat, then dip into the polenta to completely cover.
Heat the oil in a deep frying pan until hot, but not smoking, and shallow-fry the fishcakes for 3-4 minutes on each side, until golden-brown all over and cooked through. (If the fishcakes are browning too much but not hot in the middle, place onto a baking tray and bake for 5-6 minutes in an oven preheated to 200C/400F/Gas 6.)
For the salad, combine the mayonnaise, lemon zest and juice in a bowl.
Add the carrots, edamame beans, green beans and chickpeas and mix well. 
To serve, place a spoonful of salad onto each plate and top with a hot fishcake.