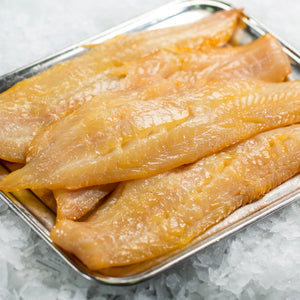 Sustainable Scottish haddock caught by our responsible sourced fishing fleet in the rich fish grounds around Scotland and smoked by one of Arbroath's most famous Smokers.
The haddock is bought daily fresh from the boats at Peterhead Fish Market by our expert Buyers. The haddock is then filleted in house, and smoked by one of Arbroath's most experienced smokers - over 30 years knowledge - in an open fire pit, the traditional way.
Recipe
Smoked haddock and pea 'risotto'
Ingredients
• 1 tbsp olive oil
• ¼ onion, finely diced
• 100g/3½oz basmati rice
• 50ml/2fl oz white wine
• 100g/3½oz smoked haddock (half cut into pieces, the rest left whole)
• 150ml/¼pint hot chicken stock
• 50g/2oz frozen peas

Preparation method
Heat the olive oil in a medium heavy-bottomed pan and sauté the onions until softened.
Add the basmati rice and stir to coat the grains and cook until the grains turn translucent.
Add the white wine and cook for one minute.
Add the chopped smoked haddock and a ladleful of chicken stock. Cook until the stock has been absorbed and stir constantly. Keep adding the stock gradually until it has all been absorbed and the rice is cooked but still retains a little bite.
Add the frozen peas and cook for another minute.
While completing step four, drizzle a little olive oil over the remaining smoked haddock and griddle for 2-3 minutes on both sides.
To serve, spoon the risotto into a bowl and top with the griddled haddock.