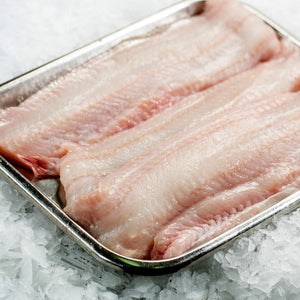 Sustainable Scottish rock turbot caught by our responsible sourced fishing fleet in the rich fish grounds around Scotland.
Rock turbot is a real Scottish favourite, with a light and delicate flavour. The fish is bought directly from the boats at Peterhead Fish Market by our expert Buyers and filleted in-house.
Recipe
1

⁄

2 

teaspoon cayenne pepper 

1 

ounce wheat flakes cereal

1

⁄

2 

teaspoon black pepper 

1

⁄

2 

teaspoon white pepper 

1

⁄

4 

teaspoon onion powder 

1

⁄

4 

teaspoon garlic powder 




Method 

1. Wash the fish fillets and pat dry.

2. In a bowl mix the ground wheat flakes and all the seasonings.

3. Pour the dry mixture onto a piece of foil or wax paper, and dip the fillets into the seasoning, coating both sides.

4. In a heavy cast iron fry pan heat the oil.

5. Fry the fillets for 2 minutes on each side.

6. Lay the fillets on a plate lined with a paper towel, cover with another paper towel, and pat to remove excess oil.