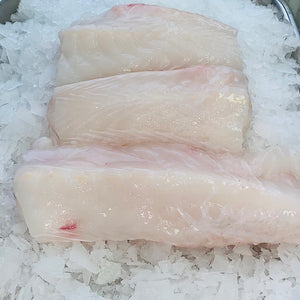 Sustainable Scottish monkfish fillets caught by our responsible sourced fishing fleet in the rich fish grounds around Scotland.

The monkfish are bought fresh from the boats at Peterhead Fish Market by our expert Buyers, and filleted in-house by our team - they are split into fillets, tails and cheeks.
Recipe
Bacon wrapped monkfish 
Bacon-wrapped monkfish recipe | BBC Good Food
Method
STEP 1

Lay 1 monkfish tail fillet on a board, sprinkle with thyme leaves and season. Lay the other fillet on top with tapering tip in the opposite direction, so each end has one thick and one thin end butted together.




STEP 2

Lay the bacon on a board, slightly overlapping and put the monkfish in the centre. Wrap the fish in the rashers so that it holds together quite firmly.




STEP 3

Heat the grill for 3-5 mins. Line the grill pan, lay the monkfish on it, with the bacon joins underneath.




STEP 4

Grill for about 7-10 mins until the bacon starts to crisp, then carefully turn over and cook for another 7-10 mins. At the same time, grill the tomato halves. As soon as the monkfish feels firm when pressed on top, remove and leave to stand for 5 mins. Save any pan juices from the paper and drizzle into the vinaigrette. Cut the monkfish into medallions, slightly on the diagonal. Dress the watercress salad with the vinaigrette and juices and divide between four plates. Place monkfish on top, season with pepper and serve tomatoes alongside. Nice with baby new potatoes.