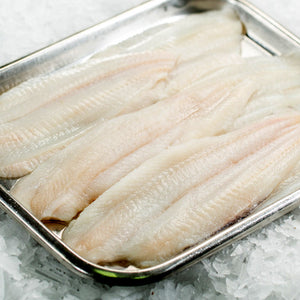 Sustainable Scottish sole caught by our responsible sourced fishing fleet in the rich fish grounds around Scotland.
The lemon soles are bought daily fresh from the boats by our expert Buyers at Peterhead Fish Market and expertly filleted in-house by our team.
These are a favourite of our customers - why not give them a try?
Recipe
Pan-fried fillet of lemon sole with pea and sorrel sauce
Ingredients
• 1 lemon sole, filleted
• salt and freshly ground black pepper
• 75g/3oz butter
• 8 baby onions, peeled
• 1 shallot, finely chopped
• 1 sprig thyme, leaves only
• 75ml/3fl oz white wine
• 110ml/4fl oz fish stock
• 75ml/3fl oz double cream
• 110g/4oz peas
• 1 bunch sorrel, finely sliced

Method
Season the sole with salt and freshly ground black pepper.
Heat a frying pan until hot and add a third of the butter to the pan.
Place the fish into the pan and cook for two minutes on each side. Set aside and keep warm.
Meanwhile, heat a separate frying pan and add another third of the butter to the pan, along with the baby onions.
Fry the onions until golden-brown on all sides and tender - about five minutes.
Heat another frying pan until just hot and add the remaining butter, shallots and thyme.
Cook for two minutes, then add the white wine. Turn up the heat, and cook until reduced by half.
Add the fish stock to the pan and allow to reduce a little further. Add the cream and simmer for 3-4 minutes.
Strain the sauce through a sieve and return it to the pan. Add the peas and sorrel and cook through until the sorrel is wilted and the peas are hot.
To serve, place some sauce on each plate and arrange the fish on top. Spoon the onions around the edge and serve at once.