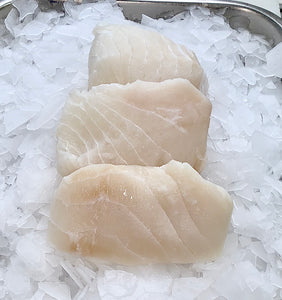 Sustainable Scottish Halibut fillets caught by our responsible sourced fishing fleet in the rich fish grounds around Scotland.
The Halibut are bought fresh from the boats at Peterhead Fish Market by our expert Buyers, and filleted in-house by our team.
RECIPE 

Grilled Halibut with chunky avocado salsa
1. Halve and stone the avocado and use a teaspoon to scoop chunks of the flesh into a bowl. Gently mix all the other ingredients, except the fish, in  with the avocado, the set aside.
2. Heat the pan until very hot, Season the fish with pepper, and salt if wanted, then drizzle with a little olive oil. Cook the fillets for 2-3 minutes on each side until charred and cooked through. Serve with the avocado salad. 
Preparation method

1. Preheat oven to 400 F
2. In a large non-stick baking dish, add halibut skin side down and drizzle with oil
3. Top with garlic, parsley, lemon zest and 2 tbsp lemon juice, dividing evenly. Seasoned with salt and pepper. 
4. Bake for 12 to 15 minutes, until the halibut flakes easily when tested with a fork.
Ingredients 

1 ripe avocado 
2 ripe plum tomatoes, each chopped into 6 
1 small red onion, finely sliced 
3 tbsp olive oil, plus some for drizzling 
small bunch coriander, leaves 
2 x 140g/6oz halibut fillet