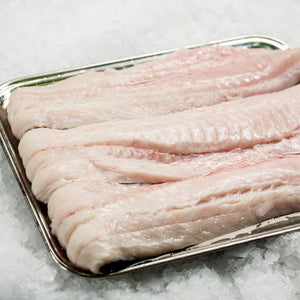 MSC certified sustainable Scottish hake caught by our responsible sourced fishing fleet in the rich fish grounds around Scotland.
The hake is bought daily by our expert Buyers fresh from the boats at Peterhead Fish Market. It is then filleted by our expert team in-house, ensuring you get the freshest fish available.
Recipe
Pancetta wrapped hake with new potatoes and beurre blanc
Ingredients
For the fish
• 1 tbsp olive oil
• 1 hake fillet
• 4 slices pancetta
For the potatoes
• 30g/1oz unsalted butter, plus more if necessary
• 1 garlic clove, peeled and crushed
• 4 spring onions, finely chopped
• splash white wine
• 1 tsp fresh chives, chopped
• salt and freshly ground black pepper
• 150g/5¼oz new potatoes, cooked

Preparation method
To make the fish, heat the oil in a non-stick frying pan. Wrap the hake in the pancetta slices and then pan fry for 2-3 minutes on each side, or until the pancetta is golden brown.
For the potatoes, gently melt the butter in a pan and sauté the garlic and spring onion for two minutes, to soften. Stir in the wine, chives and salt and freshly ground black pepper. Over a gentle heat whisk in a little more butter to make a sauce.
Add the new potatoes to the pan to warm through.
To serve, transfer the buttery potatoes to a serving plate and serve the wrapped fish alongside.