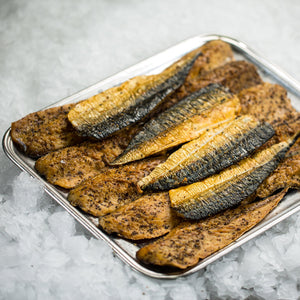 Sustainable Scottish mackerel caught by our responsible sourced fishing fleet in the rich fish grounds around Scotland.
A real summertime favourite, these mackerel are bought from Peterhead Fish Market by our expert Buyers and filleted in-house by our team. They are then peppered and lightly smoked.
Recipe
Peppered mackerel risotto
Ingredients
• 250g Arborio rice
• 700ml stock (chicken or fish)
• 200ml white wine
• 2 peppered mackerel fillets
• ½ red chilli (optional), sliced
• 4 mushrooms, sliced
• 1 onion, finely chopped
• 2 tbsp olive oil
 To Serve
• 2 leaves of fresh basil per serving

Preparation method
Heat a large pan, when the pan is hot, add the oil.
Add the onion and fry at a low heat until golden and tender (keep stirring the onion to avoid burning).
Add the rice and mix well, until you see the rice is starting to become transparent, then add the wine and stir well.
Remove the skin from the peppered mackerel and flake.
After a minute or two add the mackerel and the mushrooms.
When you see the wine is disappearing, add a third of the stock and the chilli.
Keep adding stock as needed and cook for 20-30 minutes until the rice is cooked to your taste (add a little extra stock or hot water if you want it more tender).
Add pepper to taste and a sprig of fresh basil to serve.